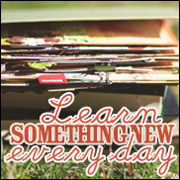 Shimelle's annual class for September, Learn Something New Everyday, started today. I did attempt this last year (LSNED 2010), but lost momentum by the third week. I'm not optimistic that I'll get very far this year either, especially with little Jasmine now on the scene, but I'll try and do as much as I can. For now I'll keep my learning to blog posts, but maybe one day I'll get my act together and make a mini-album. :D Or maybe I'll do it all digital...we'll see. With Gus back at work from next week, time is going to be very precious.

So what did I learn today?

Today I learned that due to Government incompetence, I may not be eligible for government assistance unless I give my baby up for adoption!
Major *FAIL* by the Australian Government.

I have read and re-read the question a million times. If I have it wrong, please let me know!! I think someone needs to review this form. Mind you, like most government forms, it is so complex and confusing in the first place that I seriously doubt anyone in Government administration can figure it out any more than the general public!

So that, with much sarcasm and shaking of the head, is what I learned today! LOL

Are you participating in this class too? Let me know as I'd love to see what you're learning every day!

*hugs*