Last year I shared with you a post about a local event called the Winter Magic Festival (see here). Unfortunately I missed the festival this year as I had to attend an ante-natal class, so that was quite disappointing. However, I've created a very simple scrapbook layout outlining ten awesome things about the festival:
Credits: Background pp from In The Groove by Shabby Shoppe; Fonts - Kingthings Petrock, Wendy Medium.
This layout was also created as part of the My Album of Awesome Big Picture Class.
You can click to enlarge, however, here are the ten awesome things:
The Grand Parade

The exciting festival atmosphere

The amazing and varied market stalls

The diverse and delicious food stalls

The entertaining street performers

The infectious Samba music and dancing

The interesting costumes

The huge crowds

The colourfulness of everything!

The awesome fireworks ending an absolutely awesome day!

Hopefully I'll be able to make it to next year's festival and show you lots more awesome pictures! :D
~~~~~~~~~~~~~~~~~~~~~~~~~~~~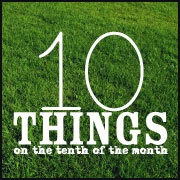 Today's post has been brought to you by Shimelle's 10 Things on the 10th regular feature. Why don't you join in as well? Click here to link up and see what everyone else has to offer today. :D
~~~~~~~~~~~~~~~~~~~~~~~~~~~~

*hugs*